What year is it?
It's felt like a lifetime since the last newsletter (you remember, the one about publishing my new book Chromatic Cell Permutations for Trumpet). Now I have fresh album about to drop!
I'm self releasing Adult Children, a full length instrumental jazz fusion album informed by Hard Bop and inspired by Highlife. The musical arrangements feature Latin percussion and layered guitar accompaniment. "[Vince has] an approach that is more soulful, yet laid back in a way. The influence of Latin music adds more fuel to the fire." (Homer Jackson, Philadelphia Jazz Project). Adult Children will be released Tuesday, October 20, 2020.
Adult Children is available for pre-order through my website at https://vincetampio.com/store. You can listen to the first track, "Career Cheerleader," while you consider purchasing the album as either a CD, digital download, or both (or whatever else comes to mind while you listen). Want to hear more? Check out my bandcamp page for access to an additional track.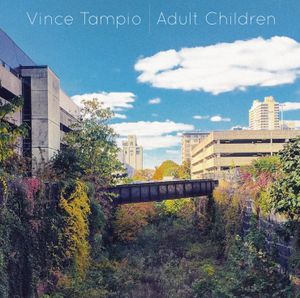 Want to learn more? Adult Children took a long time to produce. The inspiration for the album originally struck in 2006. While I was researching colleges, I discovered We Own the Moon by Spielplatz, a side project of trumpeter Dr. Chuck MacKinnon. The two albums were produced similarly. Both albums began as an assortment of collectively improvised grooves involving bass and percussion. The resulting recording sessions were divided into distinct tracks, each organized into tangible musical forms. From there, harmonic accompaniment was applied and melodies were composed. A lot happened before I was finally to gather a rhythm section to record early in 2015. 
"However much he may genre-hop, use exotic instruments or play with sound processing, those aren't just gimmicks and his playing can stand on its own in a fine style. So too does his composing." (Geno Thackara, All About Jazz). For Adult Children, I perform on trumpet, guitar, and bass, and am joined by bassist Ben Basile, percussionists Ben Diamond, Corey Mark, and Alec Meltzer, and guitarists Joe Heider and Drew Parker. Each musician exudes personality not only heard through their playing, but also sporadic utterances (if you listen deep enough). 
In the case of Adult Children, I drew further inspiration from Highlife music - particularly the aspect of guitar accompaniment. Highlife is a genre from present-day Ghana which uses the melodic and main rhythmic structures of traditional Akan music, but is played with Western instruments. Most tracks on the album feature 4 electric guitars playing single line figures (essentially functioning as one texture), 2 electric 12 string guitars playing chordal accompaniments, and 1 co-lead guitar playing alongside the lead trumpet. I'm no stranger to arranging for multiple single line guitars; I did a lot of that in college since there were so many guitarists!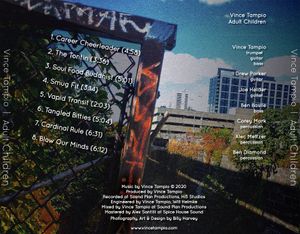 The music is an interpretation of the current sociopolitical culture; song titles reflect aspects of certain stunted personalities. I suppose it's the closest any of my albums have come to a political album. It's certainly observant of the generations I seem to be straddle, wedged in the context of the American election cycle. This is by no means a 'Pandemic' album; Adult Children was well underway long before COVID. Photographer Billy Harvey did a fantastic job of capturing the essence of this album with the cover art. 
I hope you check out my new album Adult Children, give it a listen, and consider purchasing your own copy. I'm immensely proud of how it came out and it's finally ready for the world to hear. 
Thank you as always!
VT