CD Review: These Years on the Boat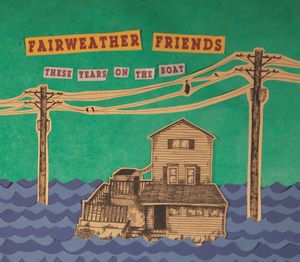 Written by John Burdick, 27 September, 2012

Fairweather Friends
cultivate a ramshackle, communal vibe on their fine debut,
These Years on the Boat
. On the cover, the New Paltz house in which they recorded it is imagined as a vessel adrift in the time of floods. Under the CD tray, the house appears again, festooned with people hanging from railings and sitting on roofs. Friend-centric, open-road, antimaterialist themes abound. The opening song, "Fire," reads like a youth-culture call to inaction: to experience and love, rather than to making and planning.
A kind of beatnik-family motif extends throughout the music as well.
Fairweather Friends
are a mere guitar-and-drums indie duo, Adir L. Cohen and Jed Kosiner, but the CD took a village to make. The spartan default instrumentation frequently sprouts baroque horn arrangements or erupts into party vocals and ecstatic drum circle workouts. It's a fresh, frequently surprising duo-plus-friends approach.
This is indie roots music, skewed Americana in which slurred guitars and the slack ensemble logic of Pavement meet a visionary, Dylanesque lyrical ambition. Songs like "The Spill" and "Charlie Mortlok Bean" reveal a fondness for earthy Britpop as well. Cohen sings with a husky, offhand authority. His guitar playing languishes in soulful disrepair, a glove-comfortable fit with Kosiner's wide, expressive feel, the subtle artistry of which is most apparent on spacious tracks like "Same Big Ring." Fore to aft, this is an apocalyptic, happily shambolic folk rock odyssey. The themes may be dark and stormy but the touch is light.
Salvationrecordingco.com
. 
For original article, click
here
.