Liana Gabel to Perform at BSP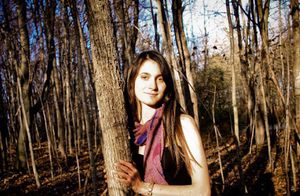 Written by John Burdick, 3 May 2013
On her upcoming debut CD Rest and Heal, New Paltz-based singer/songwriter
Liana Gabel
finds an idiosyncratic sweet spot somewhere between traditional vocal jazz and impressionistic, surreal indie pop. The sound is truly her own; but to throw some pins on a map, imagine the lazy waft of
Billie Holiday
meeting the spiky dynamics and alien siren appeal of
Bjork
on Major Seventh Street in Mr. Rogers' neighborhood – with vibes, strings and horns. It is a friendly, generous sound, but one with an unshakable hint of weird.
As their slippery titles suggest, songs like wacky and beautiful "Fundamental Sweater" and "Heart by the Hand" are openhearted and affirmative, but oddly elusive when you try to pin them down. To anyone who has followed Gabel's career, Rest and Heal sounds like a natural culmination of the work that she has been doing in the New Paltz area for a number of years now, bringing together the stylized jazz inflections of her group Liana and the Michaels with some of the bedroom-Beatles flavor of her collaborations with the talented songwriter Oscar Bilger of the
Jings
and
Lightning Bug
. And it sounds like something more than and different from either, due in part to the performance and production contributions of
Los Doggies
, a chameleonic New Paltz band that is equally at home with absurdist prog/rock and sweet, naïve Minimalism.
On Saturday, May 4,
BSP Lounge
in Kingston hosts Liana Gabel's album release party, featuring an expanded version of Gabel's band. New Paltz stalwarts
Breakfast in Fur
and the
Breath Collective
will perform as well, along with the
Pick Pockets
from Rochester.
For original article, click
here
.