Recap & Photos: The Extraordinaires' Holiday
Written by Q.D. Tran on 16 December 2011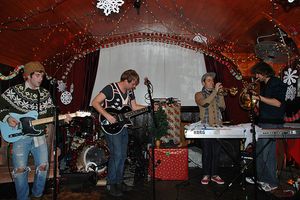 As expected,
The Extraordinaires
' Holiday Revue last Friday at Kung Fu Necktie was quite a festive occasion. The place was filled with plenty of friends and fans soaking in the good vibes.
Conversations with Enemies
kicked things off with a joyous romp through some of new tunes from their upcoming album as well as a Xmas classic and "ugly holiday sweater" contest. It was kind of a pre-party as they waited for frontman Josh Craft's birthday to come at midnight which included his own celebration later on at Barcade.
The Extraordinaires also treated the crowd with some new songs that they've been working on in the studio with Kyle "Slick" Johnson (Wavves, Cymbals Eat Guitars,
Creepoid
, ect.) as well as old fan favorites like "Hi Five the Cactus" and "Patent Pending," which closed out their set. They took a very short break to make some costume changes to get ready for the surprisingly rad Holiday Revue. I only say "surprisingly" because I really don't care much for Christmas songs, but their versions and skits were more than entertaining with pals like
Man Man
's Chris Powell (a.k.a. Pow Pow) and Matt Gibson (a former Extraordinaire) helping to share in the good times. While their Scrooge-y neighbor played by Mike Chadwick (ex-
Armchairs
) tried to shut down the party, it simply wouldn't stop.
Not with The Extraordinaires' drummer Evan Smoker coming out from behind the kit to bust a rhyme for the cover of Run DMC's "Christmas in Hollis" (BTW: I wish that I had requested "Santa's Rap" from the movie Beat Street beforehand) and Eric Slick (
Dr. Dog
,
Norwegian Arms
, etc.), Mike Harkness (
Arrah and the Ferns
, ex-Armchairs), and Mikey Tashjian (
Dangerous Ponies
) as the police bringing it drumline style-y for a smokin' rendition of "Little Drummer Boy/Peace on Earth" a la Bing Crosby and David Bowie. It became one of those nights that you had to be there, and anyone who was - knows what I'm talking about, but you can still check out my pics below. Happy Holidays, yule all!
For the original article, click
here
.